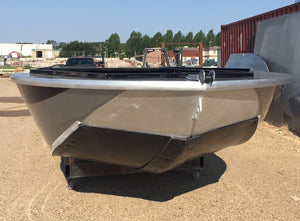 Bottom Protection - What is right for you?
You have all probably heard a lot of talk about what is best for the bottom of your river boat. Everyone has a preference for what works for them and this might be the best suited for their boating conditions. There are options for both steel and plastic hull protection that help strengthen the boats hull or give it the ability to slide across the gravel or rocks easier.
For the plastic option you may have heard it called Teflon or puck board. It is actually UHMW plastic which is short for "Ultra High Molecular Weight". The steel armor is made from QT-100 steel which is a high carbon spring steel that is very resilient to bending. So which one is right for you?
UHMW plastic is the most popular and a favorite among most river and jet boaters. The plastic reduces a lot of friction when you need slide or coast over a gravel bar or when you need to push your boat off when it is stuck on the river bottom. Picture a crazy carpet that you used when you were a kid fastened to the bottom of your boats hull! If the gravel bar is wet and you need to cross it, you almost don't lose speed because of the slipperiness of the UHMW. This is best suited for shallow rivers with lots of gravel and debris, and for those adventure boaters who use their boats a lot harder to get to those remote locations for hunting, camping or fishing. The plastic hull protection doesn't strengthen your hull, and is attached with Flat head (countersunk) grade 8 bolts and sealed with rubber back washers and a nylon lock nut.
Although running bolts through your hull seems counter intuitive; if you're planning on using your jet boat, other methods tend to peel like a banana. We see it often, and it can be an expensive fix.
QT-100 steel or "Quench Tempered" steel is a high tensile strength steel that has been heat treated to give it more strength. This method is more cost effective and requires fewer bolts to install it securely. The steel will strengthen you hull where the UHMW will not. So for some boats that have a light hull or thinner bottom with only a couple stingers and minimal bracing, the QT-100 can make your hulls bottom incredibly strong! This option is greatly suited for boaters who run rocky rivers with sharp jagged rocks or lots of boulders. Steel is also a great way to repair a dented hull, the profile of a delta pad formed into the steel will redefine the profile of your damaged hull making it perform like new and restore the bottom to almost new condition.
I hope this gives everyone a little bit better understanding of the types of hull protection.
Find out what would be right for your boat, or book a consultation with our Service department.
service@outlaweagle.com - 403-347-4565
---